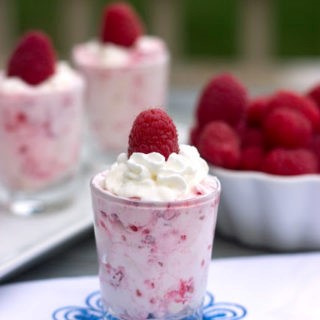 Makes 8 parfaits / Prep time: 10 min / Source: CookingontheFrontBurner.com
Ingredients:
8 meringue cookies (vanilla, strawberry or other flavor as desired)
1-1/2 cups Cool Whip, thawed
1 cup raspberries plus 8 raspberries for garnish
Directions:
1. Coarsely chop the meringue cookies and divide evenly between 8 shot glasses or small cups.
2. Take the 1 cup of raspberries and cut them in small pieces (quarters for regular sized berries, sixths for large berries).
3. Place cut raspberries in a bowl, add half the Cool Whip (3/4 cup) and stir to release the color. Divide evenly over the cookies.
4. Evenly divide remaining Cool Whip over the top and place one whole raspberry on top for garnish.