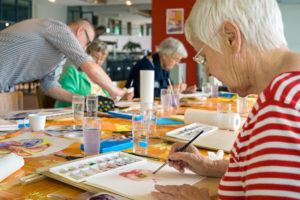 The creative arts are a wonderful opportunity to express individuality and be the sole creator of something beautiful that never before existed. The act of creating something new, using materials with your own form of personal expression, can be very therapeutic and empowering. Our projects have very flexible goals so that even those with limited experience, or limited abilities, can succeed in creating. We demonstrate the techniques and guide the group through the learning process. Our individual assistance helps take the fear out of getting started, even if this is their first art project. And if anyone is having trouble seeing or using their hands, we can help them make it. We can also hold an art party at the end of the class, with all of the students' work on display. The parties are a wonderful way for them and their families to learn new things about each other.

All programs are available in-person or by video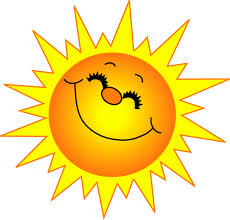 All programs can also be done outdoors in nice weather or with overhead cover, except Soap Making
Click on the categories below, or scroll down, for a full program list
ART HISTORY AND CULTURE
Fun with Art History This class explores the life and work of one particular artist (various artists are available). Participants will learn about the artist's art and life, and will then explore his/her work through a hands-on art project. The class helps participants to reestablish ties with the past while becoming familiar with the special techniques of the artist. (1 hour class plus $5 per person for materials)

GEORGIA O'KEEFFE – American painter became famous for her larger than life flower paintings and of desert scenes and objects. Participants will draw a flower as if looking at it through a magnifying glass and color it in with craypas, paint or colored pencils. ( 1 hour class plus $2 per person for materials)

VINCENT van GOGH – Dutch painter famous for his bold brush strokes and vivid colors. Participants will recreate Starry, Starry Night (their own interpretation) using craypas on paper. ( 1 hour class plus $2 per person for materials)
GEORGES SEURAT – French painter known for his "dot" paintings. Participants will create a simple picture using q-tips as their paint brush. Using just primary colors, new colors will be formed by placing the dots very close together which will give the illusion of a different color. ( 1 hour class plus $ 3 per person for materials)

JOHN JAMES AUDUBON American painter who concentrated on painting all the birds of America true to size in their natural habitat. Participants will paint a bird of their choice using watercolor paints or colored pencil. – ( 1 hour class plus $3 per person for materials)
PABLO PICASSO – Spanish Cubist painter who simplified objects and people to geometric shapes. Participants will study the painting The Three Musicians and create a collage of cut colored paper of a musician and their instrument. ( 1 hour class plus $2.50 per person for materials)

American Folk Art


Discover the beginnings of American Folk Art and why it is still so popular today. Students will learn interesting facts of American history while creating their own Folk Art piece using different techniques and supplies.


Heart & Hand Paper Valentine – Tokens of love, friendship or an expression of esteem were very popular during the 18th and 19th centuries. Students will trace and cut their own hand or use a hand stencil using red or white paper. A paper heart will be cut to decorate the hand. A simple weaving technique will be used on the wrist part of the glove to finish it off. (1 hour class plus $2 per person for materials)
Sailor's Treasure Box – While on whaling or cargo ships for months or years at a time, sailors needed a hobby to occupy their off-duty time. Small wooden boxes were carved and decorated with shells and flowers, and brought home to their loved ones. Students will decorate a cardboard box using paint, shells and ribbon. (1 hour class plus $5 per person for materials)
CARD MAKING
Greeting Cards – Make your own unique greeting cards for any special occasion or "just because". We will use a combination of stamping, painting, stenciling, and other decorative techniques to create one-of-a-kind designs. (1 hour class plus $3.50 per person materials fee for 3 cards and envelopes per person)
ORIGAMI
Origami is the Japanese art of folding paper to create abstract animals, birds, flowers and other objects. Participants will learn about the history of Origami and will then create a project of their own. Both basic and intermediate projects are available, depending on the abilities of the participants. (1 hour class plus $1.50 per person for materials)
DRAWING
Line – Discover the many wonderful things a line can be: straight, wavy, zig zag, and spiral. Using paper and an assortment of drawing tools we will explore the rich variety of the simple line. You may also choose to create a mandala or spiral design. (1 hour class plus $2 per person for materials)
Stenciling – Using either the positive or negative portion of a stencil shape, stencil designs are a fun and easy way to use paint, markers, crayons and colored pencils. Stenciling can be done on fabric as well as paper. (1 hour class plus $2 per person for materials)
PAINTING
Flower Pot Painting – Acrylic paint is applied to a clay flower pot, then decorated with stencils or free-hand painting to create a one of a kind container for your favorite plant. (1 hour class plus $4 per person for materials)
Mini Birdhouse Decorating – Pre-made mini birdhouses are painted and decorated with various embellishments. The birdhouses look lovely on a shelf, or nestled among your houseplants. (1 hour class plus $3 per person for materials)
Painted Rock Cactus Garden – Oddly shaped rocks are painted to look like cacti, and glued to a bed of sand. This garden makes a nice decorative piece with no care required! (1 hour class plus $5 per person for materials)
PRINTING
Stamp Printing – Personalized stamp images are designed and cut out of foam sheets, then glued onto blocks of wood. The stamps are then inked onto paper to create unique patterns and designs. We will also work with novel stamping materials such as fruit and found objects to create interesting patterns and textures. This process can also be used to create beautiful personalized stationery. (1 hour class plus $5 per person for materials)
SOAP MAKING
Learn how to make quick and easy guest-size scented soaps to use yourself or to give as gifts. We'll also make decorative packaging for the soaps. 1 hour class plus $2 per person for one small soap. If possible, please provide a microwave, refrigerator and clean-up sink. If not, we will bring alternatives.
WREATH MAKING
Make a beautiful wreath to decorate your wall or door using artificial flowers and greenery mounted on a pre-made wreath form. Wreaths can be themed to a season or holiday. Overhead cover recommended when displaying outdoors. (1 hour class plus $9 per person for 8-10″ wreath or $11 per person for an 18″ wreath. Optional 15″ long wreath hangers are $5 each.)
HOLIDAY ART PROGRAMS
Visit our Holiday Activities page for fun seasonal programs such as
Folk Art Snowman Art Project
"Create a Snowy Day" Art Project
Holiday Greeting Cards
Holiday Soap Making
---
Click on the categories below for a full program list