Loving Hands Craft Lifesaving Masks During COVID-19 (April 2020)

Cathy Rush, one of our many fabulous Loving Hands Group teachers, has been volunteering countless hours of her time to make over 500 face masks for seniors in need and hospital workers. Way to go Cathy! Click here to read the article
International Disability Rights Delegation (August 2019)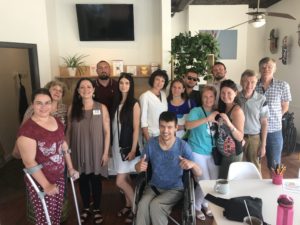 The Loving Hands Group hosted a delegation of eleven advocates from the country of Belarus who are leaders in the field of diversity and inclusion for people with disabilities in Belarus. The group came to Cleveland to meet with and gather ideas from local businesses and organizations who work to improve the lives of people with disabilities. They observed one of The Loving Hands Group's programs and met with us to discuss ideas that they could possibly implement back home. The visit was funded by the U.S. Agency for International Development, in partnership with World Learning. Their itinerary was planned and coordinated by the Cleveland Council on World Affairs. The Loving Hands Group is proud to have been asked to help advance opportunities for people with disabilities worldwide. To learn more about the Cleveland Council on World Affairs click here.
"Celebrating Inclusion: Beyond the Basics" Conference (May 2019)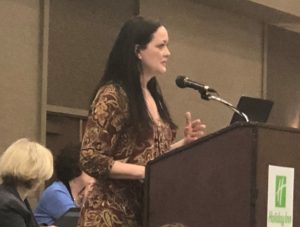 Our Founder, Judith Eugene, was a panelist at the "Celebrating Inclusion: Beyond the Basics" conference hosted by Services for Independent Living, a support and advocacy group for people with disabilities. The goal of the conference was to "feed the soul and enhance service capacity" by fostering ideas for an inclusive, accessible city for all residents. Over 200 people attended the conference. Judith spoke about the importance of creating access for all individuals to programs that nurture the mind and spirit, and the positive, life-changing results that are achieved through these types of programs. Judith's co-panelists included representatives from the Cleveland Museum of Art, Playhouse Square and the Cleveland Metroparks. To learn more about Services for Independent Living click here.

"Do Well and Do Good – Offering Healing Through Art with Judith Eugene" (October 2018)
Thank you so much to Dorothy Illson, host of the successful and inspiring podcast "Do Well and Do Good" for interviewing The Loving Hands Group. Dorothy's podcast features businesses who make a positive difference in the world, while at the same time achieving financial success…proving that you can both "Do Well and Do Good". We are honored to be among her list of inspirational guests.
Click here to listen to the interview: http://dowellanddogood.co/019-healing-through-art-judith-eugene/
---
"Senior Moments" – New Cleveland Radio (February 2018)
Many thanks to Brad and Heather Greene for having me as a guest on their radio show "Senior Moments" to discuss our services. We're hoping this will help us reach many more families in need.
Click here to listen to the interview: http://mixlr.com/new-cleveland-radio/showreel/senior-moments-with-brad-and-heather-greene-2518/
---
"Aging Without Wrinkles" – BBS Radio (May 2016)
"Unique Yoga Class For A Special Group Of People" – Cleveland 19 News (Feb 2016)
"Vegetarian Cooking Class at the Solon Senior Center" – Solon Times (Feb 2016)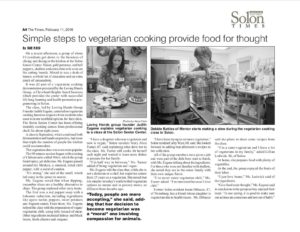 "Yoga For Disabled Adults" – The Heights Observer (Nov 2015)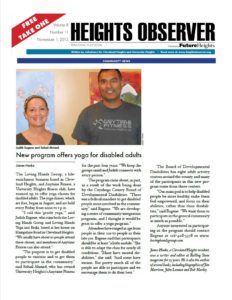 "An Interesting Variety of Programs" – Voice America Radio (Jul 2015)
"Our Formula for Success" – Voice America Radio (Jul 2015)
"Aging in Place" – Voice America Radio (Jul 2015)
"The Benefits of Laughter Yoga" – Voice America Radio (July 2015)
"Legacy Writing" – Eldercare Professionals of Ohio (2015)
"Life Enrichment Activities" – WKYC Channel 3 (2014)
"Taking the Mystery Out of Meditation" – WINT Radio (May 2014)
"Tips for Caregiver Stress Relief" – WINT Radio (June 2012)
"Healthy Menu" – CBC Magazine (May 2012)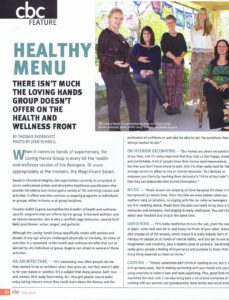 "Loving Hands Group Empowers People To Live A Full Life" – The Plain Dealer (Feb 2012)