contact us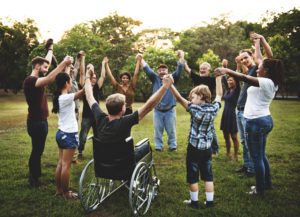 We have created partnerships with several groups and organizations in the Cleveland area who welcome adults with disabilities to come to their location to participate in our classes and activities with their participants. The programs are modified for varying levels of vision, dexterity, cognition and mobility challenges.
COMMUNITY INTEGRATION PROGRAM LIST
Subject to change – please check back for updates
Please contact us for pricing and to register
We are happy to set  up other programs if these don't work for your group
2nd and 4th Mondays of each month, 10-11am: Chair Yoga with seniors at Eliza Bryant Village, Cleveland
Every Monday, 1:30-2:30pm: Various programs with seniors at the Woodlands of Shaker, Shaker Heights
2nd and 4th Tuesday of each month, 10-11am: Cooking & Gardening with Seniors at Woodside Senior Living, Bedford
1st and 3rd Tuesdays of each month, 11:00-11:45am: Chair Yoga with seniors at Stone Gardens Assisted Living, Beachwood
4th Tuesday of each month, 2-3pm: Various programs with seniors at McGregor Assisted Living, East Cleveland
1-2 Fridays per month (dates vary), noon-1pm: Mat Yoga at Anytime Fitness, University Heights
PURPOSE AND BENEFITS
The programs help support the intent of the Cuyahoga County Integrated Community Services Program by providing community connection services for individuals with disabilities, based on the interests of the individuals.
Community integration programs actively foster engagement between individuals with disabilities and the general population. They help to
Break down barriers by providing access to a rich community experience
Break down stereotypes by fostering individual interaction with community members
Provide an enriching and mutually-beneficial experience for both groups
"I am so glad I came here today! I learned so
much from you. You really know a lot and
I'm so glad you taught me all this."
– Woman with disabilities, after participating in one of our
discussion groups with senior adults at an Assisted Living residence
OUTCOME EXAMPLES
Examples of previous community based-programs we have facilitated, and the outcomes
Self-Determination discussion group at a middle school (consumers and students) – The consumers and students learned how to set goals, formulate steps for achieving them, identify potential obstacles, and steps to get past the obstacles. The participants became empowered by making their goals concrete, they helped each other with suggestions for achieving goals, and they learned how much they have in common.
Art, music, and cooking at an assisted living residence (consumers and senior adults) – The consumers and seniors learned new skills and new forms of expression, they received a sense of achievement by doing these things themselves, and they developed meaningful relationships with new people.
Adaptive yoga at a fitness studio (consumers and fitness club members) – The consumers and club members learned yoga poses to help them with strength, flexibility, balance and stamina. They also learned meditation practices to calm their energy. Staff for lower-functioning individuals reported that the classes reduced difficult behaviors. An individual with Autism reported that it reduced his heart palpitations and anxiety.
Guitar lessons at a recording studio (one consumer as part of the ICSP program) – The consumer learned how to hold a guitar, how to tune it, how to form chords, and how to strum his favorite songs. He also watched videos of famous guitar players, to learn different guitar types and playing styles.
REVERSE INTEGRATION
We are also happy to facilitate reverse-integration programs for you, bringing members of the community to your location to participate in our programs with your individuals.