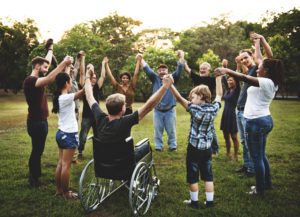 COVID-19 UPDATE: As the covid situation changes, we are continuing to offer community integration programs when and where possible. We currently have one community-based program in session: art and photography at the Cleveland Museum of Art. We are happy to create other programs to meet your needs. We are also offering our Community Integration programs by video, for individuals as well as groups of any size.
We have established partnerships with many groups and organizations in the northern Ohio area who welcome adults with disabilities to come to their location to participate in our classes and activities with their participants. Our programs are modified for varying levels of ability so that everyone can join in.
PURPOSE AND BENEFITS
The programs help support the intent of the Cuyahoga County Integrated Community Services Program by providing community connection services for individuals with disabilities, based on the interests of the individuals.
Community integration programs actively foster engagement between individuals with disabilities and the general population. They help to
Break down barriers by providing access to a rich community experience
Break down stereotypes by fostering individual interaction with community members
Provide an enriching and mutually-beneficial experience for both groups
"I am so glad I came here today! I learned so
much from you. You really know a lot and
I'm so glad you taught me all this."
– Woman with disabilities, after participating in one of our
discussion groups with senior adults at an Assisted Living residence
OUTCOME EXAMPLES
Examples of previous community based-programs we have facilitated, and the outcomes
Program: Self-Determination discussion group at a Montessori school
Participants: Individuals with DD and middle school students
Class Activities: The participants learned how to set goals, formulate steps for achieving them, identify potential obstacles, and formulate steps to either get past the obstacles. They also learned how to modify their goals if they encountered difficult obstacles.
Outcomes: The participants became empowered by making their goals concrete, helped each other develop plans for achieving their goals, learned how much they have in common, and developed new friendships and bonds.
Program: Cooking and gardening at an assisted living residence
Participants: Individuals with DD and senior adults
Class Activities: The participants designed their own vegetable and herb garden, learned how to start plants from seed, made plant markers and a plant stand, tended the garden, harvested the vegetables and herbs, and made and ate food using the garden ingredients.
Outcomes: The participants received a sense of achievement by caring for living things and watching them grow, using their creativity to develop recipes, using teamwork to prepare the foods, and developed new relationships and bonds through sharing meals together. The seniors also developed a renewed sense of life-purpose, guiding and helping the individuals with DD when they needed it.
Program: Adaptive yoga at a fitness club
Participants: Individuals with DD and fitness club members
Class Activities: The participants learned yoga poses to help them with strength, flexibility, balance and stamina. They practiced various forms of meditation to help calm their minds and energy. They also learned the importance of proper posture, both sitting and standing.
Outcomes: All participants improved their yoga skills over time, and enjoyed the camaraderie of the class. The individuals with DD received a sense of empowerment from being invited to do a popular form of exercise, and from doing it out in the community. An individual with autism reported that it reduced his heart palpitations and anxiety. Staff for lower-functioning individuals reported that the classes help reduce difficult behaviors.
Program: Guitar lessons at a recording studio
Participant: One individual with DD as part of the ICSP program
Class Activities: The individual learned how to hold a guitar, how to tune it, how to form chords, and how to strum his favorite songs. He also watched videos of famous guitar players to learn different guitar types and playing styles. The recording studio is located in a public library, so the individual also learned how to access and use the resources of the library.
Outcomes: It gave the individual a sense of importance to have his own private class based on his own desires. He felt empowered to be able to choose the songs he learned each week. The class helped him feel like an important, valued individual. He told his staff and friends how much he liked his classes and looked forward to them.
REVERSE INTEGRATION
We are also happy to facilitate reverse-integration programs for you, bringing members of the community to your location to participate in our programs with your individuals.
---
You are welcome to choose from any of the programs below to create a Community Integration Activity for your group, at a time and location of your choosing.