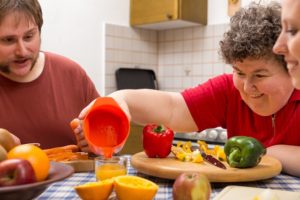 All of our programs are adapted for varying needs and abilities. Our mission is to offer life-enrichment opportunities for everyone, based on their desires and interests, and regardless of their health challenges.
We serve senior adults and people of any age with disabilities. We work with them individually or in group settings. We bring our programs directly to our clients wherever they live, work or play throughout the northern Ohio area. We also provide community-integrated activities for people of all ages with disabilities.
Providing empowerment through education, we help keep people fulfilled, engaged, optimistic, healthy and happy. We believe that everyone should be able to live a stimulating and full life, regardless of age or health condition.
---
Choose from any of the programs below to create a new Adaptive Activity for your group, either at your location or as a community integration activity.