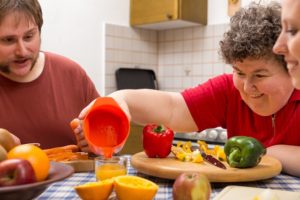 We support and empower our clients through adaptive activities that allow everyone to participate and succeed in their own unique way. All of our programs are adapted for varying needs and abilities. Programs are selected by the client, based on their desires and interests.
We serve senior adults and people of all ages with disabilities, individually and in group settings. We bring our programs directly to our clients wherever they live, work or play throughout the northern Ohio area. We also provide interactive community-based integration programs that you're welcome to join.
Our programs are designed to allow people to exercise choice, to express themselves, to take pride in accomplishment, and to be welcomed and included in life-enriching activities.
---
Choose from any of the programs below to create a new Adaptive Activity for yourself or a group, either at your location or as a community-based integration program.
Click here for a list of our current community-based integration programs that individuals are welcome to join.