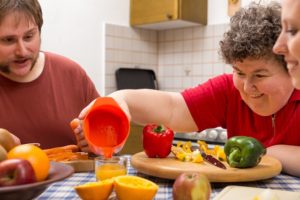 We offer several ongoing community-based adaptive integration programs that provide fun, educational programming and the ability to meet new people and make new friends. Adults with disabilities are welcome to join these groups at any time. Our programs are modified for varying levels of vision, dexterity, cognition and mobility challenges.
Adaptive integration programs actively foster engagement between individuals with disabilities and the general population. The programs help support the intent of the Cuyahoga County Integrated Community Services Program by providing community connection services for individuals with disabilities, based on the interests of the individuals.
COMMUNITY-BASED ADAPTIVE ACTIVITIES SCHEDULE*
Adaptive Yoga (Seated) – Mondays, 10-11am, Cleveland
Adaptive Yoga (Seated) – 1st and 3rd Tuesdays, 11-11:45am, Beachwood
Adaptive Yoga (Standing) – Fridays noon-1pm, University Heights
Adaptive Yoga (Standing) – Thursdays 1-2pm, University Heights
Adaptive Tai Chi (Seated) – 2nd and 4th Mondays, 11-11:30am, Beachwood
Cooking and Gardening – 2nd and 4th Tuesdays, 10-11am, Bedford
Various Programs – Mondays 1:30-2:30pm, Shaker Heights
*This schedule is subject to change. Please contact us for current locations and pricing, and to register.
New programs and locations are always being added! Please check back with us regularly. We can also provide adaptive programs at your location.