Serves 4 / Prep Time: 10 min / Source: TheMediterraneanDish.com
Salad Ingredients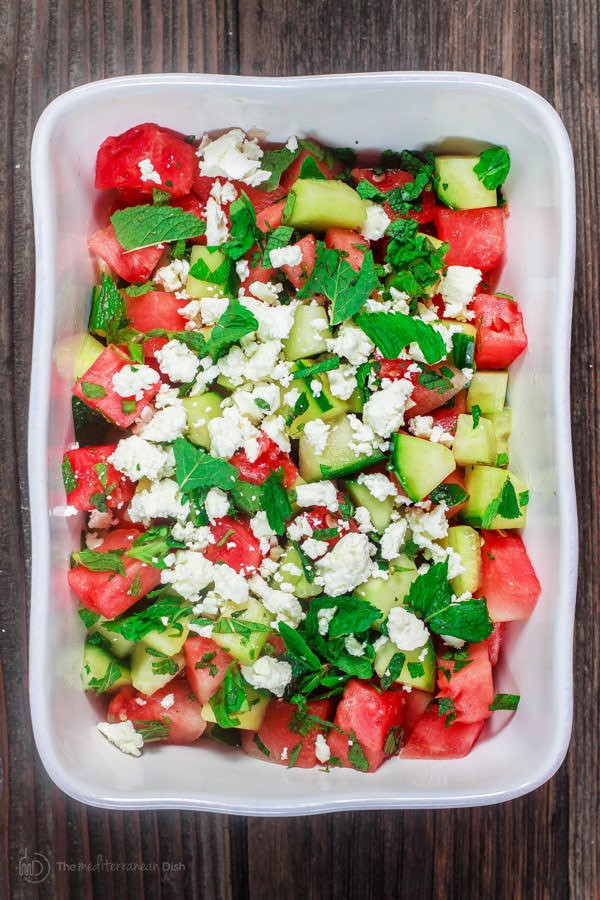 1 (5 lb) watermelon, peeled, cut into cubes
1 English (or Hot House) cucumber, cubed (about 2 cupfuls of cubed cucumbers)
15 fresh mint leaves, torn
15 fresh basil leaves, torn
1/2 cup crumbled feta cheese (or more as desired)
Dressing Ingredients
2 tbsp honey
2 tbsp lime juice
1 tbsp olive oil
Pinch of salt
Directions
1. In a small bowl, whisk together the dressing ingredients. Set aside.
2. In a large bowl or serving platter with sides, combine the salad ingredients (except for the Feta cheese)
3. Top the salad with the honey vinaigrette and gently toss to combine. Top with the feta cheese.