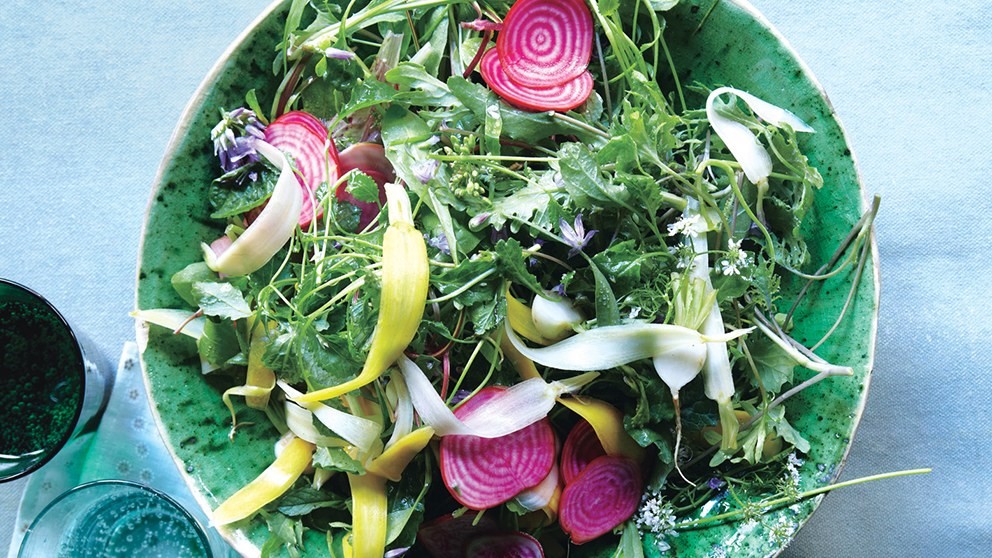 Serves 6 / Prep Time: 15 min / Source: Bon Appetit
The dressing for this salad is low in acidity to balance the tart pickled vegetables
Pickled Vegetable Ingredients
1 cup unseasoned rice vinegar
3 tablespoons sugar
1 tablespoon kosher salt
8 oz. small carrots, baby turnips, and/or Chioggia beets
Salad Ingredients
1/3 cup olive oil
1 tablespoon fresh lemon juice (or more as desired)
1 tablespoon unseasoned rice vinegar
Kosher salt and freshly ground black pepper
2 cups mixed tender greens (such as mizuna, tatsoi, arugula, dandelion greens, and/or sorrel)
1/4 cup tender herb leaves and blossoms (such as tarragon or mint)
Pickled Vegetable Directions
1. Shave vegetables thinly on a mandoline.
2. Bring vinegar, sugar, and salt to a boil in a small saucepan. Remove from heat and add vegetables.
3. Let sit until just tender, about 10 minutes. Drain.
Salad Directions
1. Whisk oil, lemon juice and vinegar in a small bowl. Season with salt and pepper. Taste and adjust as desired.
2. Trim greens and herbs. Toss with vinaigrette in a large bowl.
3. Add pickled vegetables, season with salt and pepper, and toss to combine.