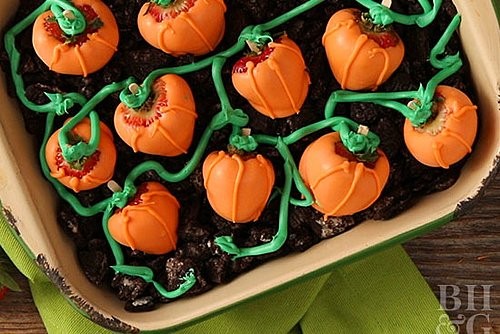 Serves 12 (3 "pumpkins" per person) / Prep time: 25 min / Source: Better Homes and Gardens

Ingredients
36 strawberries
18 oz. package meltable orange candy coating* (or white coating tinted orange after melting)
20 oz. package pre-baked chocolate cookies
1 large or 2 small tubes green decorator icing (not gel type)
*Candy coating is available at cake decorating stores and Michael's Arts and Crafts

Directions
1. Rinse and dry strawberries.
2. Line a baking sheet with waxed paper, set aside.
3. Melt candy coating in glass bowl. Dip strawberries in melted coating and place on prepared baking sheet until no longer tacky.
4. Place remaining candy coating in a baggie. Snip the corner and drizzle candy coating over dipped strawberries. Allow to set completely (place in refrigerator to speed the setting).
5. Crush the chocolate cookies to form crumbs. Place on one big serving plate or divide between eight small serving plates.
6. Place strawberries on the crumbs, arranging to form a pumpkin patch.
7. Pipe green frosting to connect the pumpkins like vines.