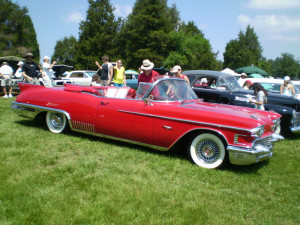 Nothing takes us on a trip down memory lane quite like an antique car. 
Cars provide an opportunity to create new friendships, talk about fond memories, share knowledge of car history and car care, and bring excitement to the present by connecting with memories of the past.  
New!!! 

Classic Car Flashback – American Automotive Design of the 50s, 60s and 70s A slideshow featuring photos and fun facts about the major automotive brands and car models that created the "heyday" of classic American car design. We will also sing some Golden-Oldie songs about cars, and invite everyone to share their nostalgic car memories with the group.
Classic Car Shows – We

coordinate with local car clubs to bring the cars to you! 

The show can be held in your parking lot, or another convenient location.

Your group is invited to participate in the event by helping with setting up the show, greeting cars as they enter, registering the entrants, and handing out the awards.  And they also get to be the judges of the show, voting for the top winners in various categories.  Food, drinks, music and prize raffles provide even more fun, and can create fundraising opportunities for your organization.

We

also invite your group's families to attend and help with the show, offering a great bonding experience between generations.  It's a fun day for the whole family!

 Shows run from approximately 9 am – 3 pm.  

This can be a once-a-year event, or you can have a few shows throughout the year with different cars in each show.

"Mini" Car Shows – The same as above, but with fewer cars and a shorter period of time (as short as an hour). Your group is still invited to judge the cars and hand out awards!
---
View other Classes
Click on the categories below for a full program list