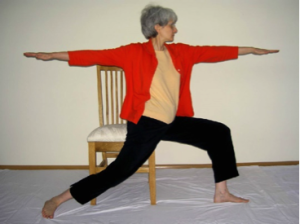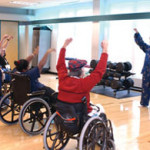 Keeping our bodies active is equally as important as keeping our minds active. Yoga helps us maintain flexibility, strength, balance and endurance.  It keeps our muscles toned and our breathing strong.   It increases our energy and our mental clarity, and improves our posture.  And it helps us gain strength and balance for everyday activities such as reaching, lifting, walking, and climbing stairs.  The meditative aspect of yoga also helps us reduce stress in our everyday lives.
And the good news is that yoga can be easily adapted to all levels of physical and cognitive ability! Our instructors have specialized yoga training for senior adults and those with physical and mental challenges. Our programs are designed to use safe, gentle, uncomplicated movements; so even if you've never done yoga before, now you can!  We can do all-seated classes, standing classes, or a combination; so even people who use walkers or wheelchairs can do yoga.
We ask that you provide your own mat, and chair if needed (armless works best).  Mats are available at local stores starting at $5 each (contact us for more information on where to buy mats).  Mats are not needed for all-seated classes.
NEW!  Yoga Stretching – A healthy and gentle wake-up for the body and mind.  You will learn stretches and simple yoga poses that you can do on your own to keep your muscles limber, your joints moving, and your mind clear.  You will also learn breathing techniques that can be used to energize yourself during that afternoon slump, or calm yourself when you are feeling down or agitated.  This class can be done all-seated, or partially standing. (One time, 45 minute class or ongoing 8-week session)

NEW! 

Family Yoga – For families touched by developmental disabilities. A gentle, relaxing, un-complicated class for parents and children of all ages and all abilities. This class is a wonderful opportunity for strengthening physical, mental and emotional health while bonding together. Taught in your home – we just push the furniture out of the way.

NEW!

  Yoga for Golf – Learn how yoga can improve your overall health as well as your golf game. You will learn yoga poses for strength, flexibility, balance and stamina that will help with your golf posture, swing and concentration. Even if you have never done yoga before, and even if you're not strong or flexible, you can do this class! We will provide a good workout without making it complicated or intimidating.
Personal Yoga Classes – Our classes are customized to work at your level of ability, and we adapt the classes to whatever physical challenges you may have.  Classes are 45 minutes long.  We recommend a minimum 8-week session for you to become comfortable and familiar with the poses, and begin to see advancement.
Group Yoga and Yoga Stretching Classes – Invite your friends or family over for a fun combination of exercise and companionship.  Class size will depend on how much space you have.  The cost is split by the students.
For information about yoga classes in our Cleveland Heights studio, please visit
Loving Hands Yoga and Reiki at www.LovingHandsYoga.com.
---
View other Classes
Visit our Services for Caregivers page