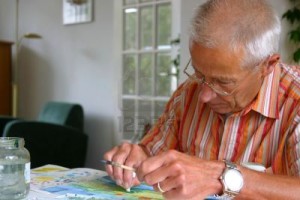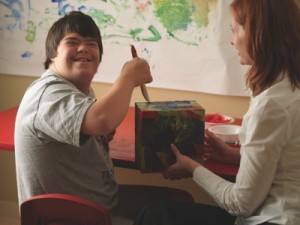 The creative arts are a wonderful opportunity to express individuality and be the sole creator of something beautiful that never before existed.  The act of creating something new, using materials with your own form of personal expression, can be very therapeutic and empowering.  Our projects have very flexible goals so that even those with limited experience, or limited abilities, can succeed in creating.  We demonstrate the techniques and guide you through the learning process.  Our individual assistance helps take the fear out of getting started, even if this is your first art project.  And if you are having trouble seeing or using your hands, we can help you make it.  Our classes are offered individually, or you are welcome to invite a group of friends over for a fun "art party" at no extra cost.  All classes are 1 hour long unless noted otherwise.
Holiday Activity

"Holidays Around the World" – An interactive slideshow presentation featuring holiday traditions from around the world, complete with holiday songs and games.

Holiday Activity

Folk Art Snowman Art Project – Painting and glued objects to create a wooden folk art snowman

Holiday Activity

"Create a Snowy Day" Art Project – A torn paper art project to create a wintry wonderland

NEW !!!

 Flower Pot Painting – Various paint types and colors used to create flower pot works of art

NEW !!!

 Mini Birdhouse Decorating – Pre-made mini birdhouses are painted and decorated

NEW !!!

 Rock Gardens – Rocks are decorated with tissue paper flowers to create a "garden"

NEW !!!

 Bean Mosaic – Beans and seeds are glued to a mat board to create designs and patterns

NEW !!! 

Box Owls – Felt and wool are glued to a box to create a decorative owl

NEW !!!

 Paper Weaving – Strips of colorful construction paper are woven together to create abstract patterns

NEW !!!

 Found Object Printing – A variety of "found" objects are covered with paint and used to print patterns on paper

NEW !!!

 Abstract Printing – Paper is placed over a colored medium. When scraped away it creates a unique abstract print. Can be done with soap bubbles and tempera paint or shaving cream and food coloring
Art Travelogue
During this fun, relaxed approach to art, students will "visit" a foreign country and learn the type of art originating from there. Each person will create a simple example of this art form. A passport can also be created to show each country visited by making a hand stamped image representing that country. Each topic takes two weeks. (Materials fee $3-$5 per person)

CHINA – Block Prints -1 hour if just paper is printed on/ 2 hours if book is made
You will create a simple design on paper which will be traced onto a styrofoam tray. Your design will be transferred onto paper by using a stamp pad or paint and sponge. The repeating of this pattern will give you an entirely new design. This design can then be used as a cover for a handmade book for the continuation of this project
BRITISH COLUMBIA – 2 hours Inuit rug – paper sewing
The Inuits told stories of their life by making hooked rugs which were both functional and decorative. You will create a paper rug using an animal as the main focus and sewing that animal to a paper background.
FRANCE – 1 hour – Notre Dame Stained Glass Window Using special colored acetate that has been treated with black wax, you will "scratch" away the wax to reveal colorful designs which you have drawn. This makes a beautiful sun catcher for your window.
JAPAN – 1 hour if just paper is printed on – Marbling on Paper/ 2 hours if a book is made
You will learn two techniques of marbling on paper. One is using shaving cream, the other is using Ivory liquid and water. Drops of India ink or food coloring will be used to create the designs. The paper can then be used to create a handmade book.
CARIBBEAN – Sailor's Shell Box – 1 hour
A small cardboard box will be painted then decorated with sea shells and ribbon. A fabric lining will be placed inside the box. The box can be used to hold jewelry, or a special treasure you might have.
RUSSIA – Nesting Doll – 1 ½ hours


The Littlest Matryoshka

is read before we begin drawing our nesting doll. The doll is painted on a piece of wood in traditional colors and later can be hung on the wall.
IRELAND – 1 hour – Illumination
This is the Celtic art of fancy lettering used to enhance books and the bible before the printing press was invented. You will choose one letter and create designs which become part of the letter. Markers and gold paint will be used.
AUSTRALIA – 1 hour – Dot & X-Ray Painting
The Aborigines told stories of their beginnings through "dream" paintings. Symbols represented different aspects of their heritage while they painted these with dots and lines. This is a fun and easy way to tell your story through painting.
AFRICA

Mask – 1 hour – Paper – A simple mask will be drawn on paper, designs applied and filled in with markers and or colored beans and raffia.
Mask – 1 hour – Foil – The same procedure will be used only drawing on foil and embossing the designs.
MANCALA GAME – 2 hours (Some sewing involved) Mancala is a traditional African game of strategy using beans on a hollowed out piece of wood. We will paint an egg carton ( our board) in bright African colors. While it is drying, a small fabric pouch will be sewn to hold the beans. Playing the game afterwards is the fun part.

MEXICO

1 ½ hours – Tin Art (A framed mirror will be created using a foil sheet which will be embossed and needle sized holes punched into the designs. A small mirror will be glued in the center of the designs and the bottom will be adorned with wire and beads.)
Bark Painting – 1 ½ hours (Amate bark painting is made from special bark that has been pounded into paper. We will use a brown
paper bag that has been textured with crayon to create our painting of animals, flowers and designs. Neon paint and a black marker will complete this colorful project.
American Folk Art


Discover the beginnings of American Folk Art and why it is so popular today. Students will learn interesting facts of American History while creating a small sample of the day's theme using many different techniques and supplies. Length of class is marked below. (Materials fee $2-$5 per person)

Ice Fishing Decoy – 1 hour – Students will design and paint a traced or hand drawn fish on a wooden board.
Weather Vane – 1 hour – Using green construction paper, metallic crayons, and popsicle sticks, students will design a weather vane representing themselves in the form of a hobby, interest or past occupation. For a more involved project, copper foil can be embossed in place of paper.
Heart & Hand Paper Valentine – 1 hour – Students will trace and cut their own hand or use a hand stencil using red or white paper. A paper heart will be cut to decorate the hand. A simple weaving technique will be used on the wrist part of the glove to finish it off.
Sailor's Treasure Box – 1 hour – Small cardboard boxes will be painted then decorated with shells and ribbon.
American Eagle – 1 hour – The eagle will be drawn on paper and a variety of materials will be used to enhance the drawing and make the eagle complete.
Theorem Painting – 1 hour – Stencils of fruit and a basket are used to create this still life on fabric. A simple application of fabric paint with a sponge will complete this traditional style of painting.
Rag Doll – 1 hour- muslin fabric is used to create a simple doll by cutting, braiding and tying.
Penny Rug

1 hour – Felt cut in circles of different sizes and buttons are glued together onto a larger piece of felt to create a small representation of a penny rug)
2 hours – Same procedure only circles are sewn together onto a larger piece of felt)

Pennsylvania Dutch Hex Sign – 1 hour – Using markers and pre printed designs students will color in the designs OR they can create their own designs using samples of hex signs.
Cross Stitch Sampler – 2 hours -Students initials are placed on gingham fabric. They will cross stitch the initials then sew a running stitch around the edge to attach it to a background.
Fraktur Birth Certificate – 1 hour – On a preprinted birth certificate, students will decorate around the wording in the style of the Pennsylvania-German illuminated text using markers and gold paint.
Fun with Art History  This class explores the life and work of one particular artist (various artists are available). Participants will learn about the artist's art and life, and will then explore his/her work through a hands-on art project. The class helps participants to reestablish ties with the past while becoming familiar with the special techniques of the artist. Participants will leave with at least one finished piece. (Materials fee $5 per person)

A Collage of Me! Participants will create visual stories of themselves using collaging and drawing to illustrate their individual interests. They will select photos from magazines that tell their story, and combine them with easy drawing techniques. The stories are always interesting and complex, and we will encourage participants to share important discoveries about themselves with the group. (Materials fee $5 per person)
Painting on Acetate – A great way to gain confidence with painting, and create beautiful pictures suitable for framing.  A picture or photograph of your choosing is drawn or traced on a piece of acetate, then painted with acrylic paints. Guidance will be provided in mixing colors and achieving the results you desire. (Materials fee $5 per person)
Tissue Paper/Mixed Media Painting – Images are drawn or traced onto paper with marker or brush and ink.  Layers of subtle color are then applied with dye-infused tissue papers, using brush and water.  If desired, pen and ink or pastels can be applied to intensify colors and add depth.  This technique is perfect for floral compositions or beautiful abstracts. (Materials fee $5 per person)
Stamp Printing – Personalized stamp images are designed and cut out of foam sheets, then glued onto blocks of wood.  The stamps are then inked onto paper to create unique patterns and designs. We will also work with novel stamping materials such as fruit and found objects to create interesting patterns and textures. (Materials fee $7 per person)
 Styrofoam Printing – This is a variation of a beautiful form of fine arts etching. Images are drawn or traced onto styrofoam sheets, and the lines are then etched into the styrofoam.  The surface is then coated with printing ink and paper is pressed on top, revealing a white line contour drawing in reverse. Each piece is one of a kind, but can be printed several times to create a limited edition series. (Materials fee $5 per person)
Greeting Cards  – Make your own unique greeting cards for any special occasion or "just because". We will use a combination of stamping, painting, stenciling, and other decorative techniques to create one-of-a-kind designs. (Materials fee $5 per person)
---
View other Classes
Visit our Services for Caregivers page