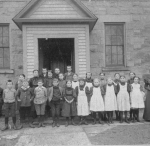 Cleveland and its eastern suburbs are home to many beautiful buildings, and some interesting architectural developments occurred here between the mid-1800s and the 1920s. Many local seniors recall their parents talking about life in the Heights during that time of transition, and some are fortunate enough to have witnessed firsthand the later years of this period of development.
The Superior Schoolhouse, located at the corner of Superior Road and Euclid Heights Boulevard in Cleveland Heights, is believed to date to 1859. It was used as a schoolhouse for approximately 65 years. When the farmland around it began to be developed for residential use, new larger schools were built. It was last used as a schoolhouse in 1924, and is now home to the Cleveland Heights Historical Society. It is open by appointment (216-291-4885), and admission is free.
Lake View Cemetery, located partly in Cleveland Heights, is home to the Garfield Monument and tomb. Completed in 1890, it was constructed of Berea sandstone. The tower is 50 feet in diameter and 180 feet high. The base is decorated with bas relief panels depicting President Garfield's life. The monument is open daily from 9 a.m. to 4 p.m., and admission is free.
Wade Chapel, also located in Lake View Cemetery, is modeled after traditional Greek temples. It was completed in 1901 and is dedicated to the memory of Clevelander Jeptha Wade, the founder of the Western Union Telegraph Company. The entrance features two-ton bronze doors, and the interior is decorated with mosaics and stained glass panels by Louis Comfort Tiffany. The chapel is open daily from 9 a.m. to 4 p.m., and admission is free.
Nela Park, located on Noble Road in East Cleveland, near the Cleveland Heights border, was the first planned industrial research park in the nation. Built between 1911 and 1921 by the National Electric Lamp Association, Nela Park comprises 20 buildings on approximately 90 acres. It was very advanced in its design of commercial mechanical systems and use of assembly line-type construction. Today, Nela Park is the headquarters of GE Lighting, and is known for its creative holiday light displays.
Cleveland Heights was originally farmland in East Cleveland and South Euclid townships. In 1895, developers Patrick Calhoun and John Brown created the Euclid Heights subdivision as a planned "garden suburb," and other developments soon followed. In 1921, Cleveland Heights was the first city in Ohio to establish a city zoning ordinance.
University Heights was originally incorporated as Idlewood Village in 1908, and was part of Warrensville Township. The name was changed in 1925 when John Carroll University moved from downtown Cleveland to the Heights.
All historical information is courtesy of the Cleveland Heights Historical Society and "The Encyclopedia of Cleveland History," a joint effort by Case Western Reserve University and the Western Reserve Historical Society.
Click here to read the full article in the Heights Observer.