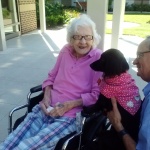 Pets do more for us than just keep us company. They also provide us with many health benefits. According to The Centers for Disease Control, regular walking or playing with pets can decrease stress, and lower blood pressure, cholesterol and triglyceride levels. The companionship that pets provide also can help manage loneliness and depression.
Mayo Clinic studies have found that pets help reduce stress and anxiety in medical patients, increase the survival rate for heart attack victims, and help increase the appetite of underweight elderly patients.
Dr. Julie Sheil of Cleveland Veterinary Acupuncture in Cleveland Heights (216-630-1450) noted that having a pet helps increase the quality of life for her senior clients who live alone or have chronic health issues. Pets also help maintain their owners' health. "Clients have told me, 'If it weren't for my dog, I would never leave the house,'" said Sheil.
Dr. Linda Mitchell of Rainbow Veterinary Clinic in Cleveland Heights (216-291-3931) said that pets provide valuable unconditional love that helps one feel connected and secure. Many of her clients can't imagine not having a pet. "A client in her mid-80s lost her cat and was devastated," said Mitchell, "but she soon adopted another one."
Adrienne Brockway, owner of Animal Zen in Cleveland Heights (216-402-6513), a company that provides various services for pets, has observed that her senior clients are especially diligent about taking care of their pet's health, and that seniors and their pets have strong bonds. "When we pet-sit for seniors," Brockway said, "they let us know all of the animal's likes and dislikes."
If you are thinking about adopting a new pet, make sure to choose one that you are able to take care of, and that is safe for you. Some dogs pull too hard when they are being walked. Some dogs and cats walk between legs or lie on the floor, becoming a tripping hazard. It may be difficult for some seniors to reach up to clean a bird cage, or bend down to clean a cat litter box.
The American Veterinary Medical Foundation recommends that one research the specific needs of the animal before making a decision.
Some questions to consider are: What does the pet eat and how much does it cost? How much exercise does the pet need? What else does the pet need to stay healthy? What is its personality? How large will it become? How much will veterinary care cost? Am I able to properly care for and clean up after the pet? Will neighbors complain? How long will the pet live? Who will take care of it if I no longer can?
The physical and emotional benefits of living with pets are many. The right pet will not only enrich your life, it will also help you stay healthier.
Click here to read the full article in the Heights Observer.