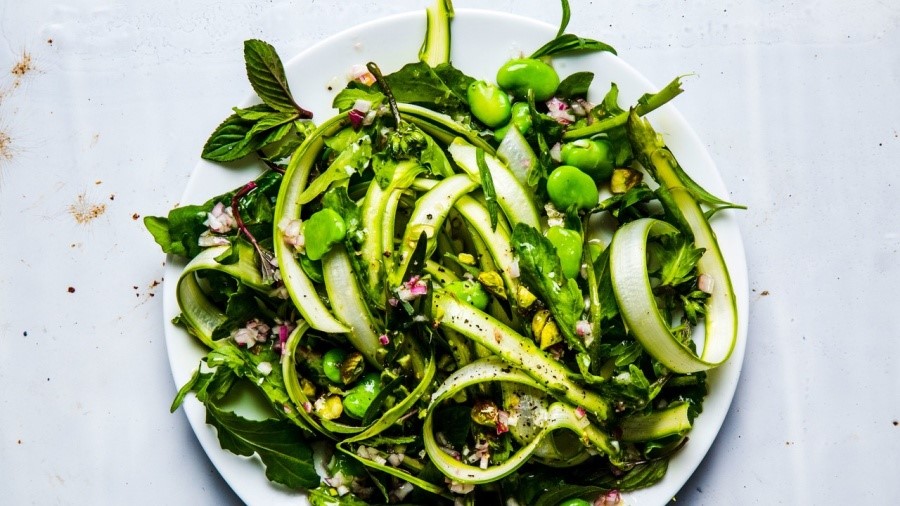 Serves 6 / Prep Time: 20 min / Source: Bon Appetit

A green celebration of spring. If you can't find fava beans, substitute English or sugar snap peas.
Ingredients
1/4 cup coarsely chopped raw pistachios
1-1/2 cups shelled fava beans (from about 1-1/2 pounds pods)
Kosher salt
1 small shallot
2 tablespoons champagne or white wine vinegar
Freshly ground black pepper
1/3 cup olive oil
1 bunch asparagus
2 cups watercress or arugula
1/2 cup mint leaves
2 tablespoons tarragon leaves
2 tablespoons chive blossoms (optional)
Directions
Preheat oven to 350°. Boil water for step 4.
Chop pistachios and toast on a rimmed baking sheet, tossing occasionally, until fragrant but not browned, 5–8 minutes. Let cool.
Chop shallot finely. Combine with vinegar in a small bowl. Season with salt and pepper and set aside at least 10 minutes.
Cook fava beans in a large saucepan of boiling salted water until tender, about 4 minutes. Using a slotted spoon, transfer to a colander set in a bowl of ice water. Drain, remove skins, and transfer beans to a small bowl.
Slice asparagus thinly lengthwise on a mandolin. Trim watercress or arugula. Coarsely chop mint and tarragon. Mince chive blossoms, if using.
Whisk oil into shallot and vinegar mixture.
Combine beans, asparagus, watercress, mint, and tarragon in a large bowl. Add vinaigrette and pistachios and toss to combine. Transfer to a serving platter and top with chive blossoms, if using.