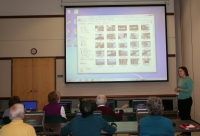 Computers are an integral part of daily life. They are useful and efficient tools for finding information, accomplishing tasks and connecting with family and friends. It can be confusing and frustrating, though, to learn how to use and maintain a computer, and to repair one when it breaks.
The computer lab at the Lee Road Library (216-932-3600) offers ongoing free classes that provide instruction on how to use a computer.
The classes range from basic lessons on using a keyboard and a mouse, to more advanced instruction on Word and Excel programs, and Facebook. The library also offers individual tutorial sessions for those with specific questions or issues.
Computer Tutor is a free service offered Monday through Friday at the Cleveland Heights Senior Activity Center (216-691-7377), available to Cleveland Heights residents age 60 and older. This service helps people who already understand basic computer use, but have specific questions, such as how to find something on the Internet or how to format a document.
Call Jimbo (440-891-9941 or [email protected]) is a remote service that helps one maintain a computer in good working order. For a monthly fee, Call Jimbo provides unlimited remote service calls, anti-virus protection, and Microsoft and anti-virus updates. If a computer has a virus, is running slowly or is getting pop-up ads, Call Jimbo can access the computer remotely and fix the problem.
Call Jimbo owner Diana Fretwell said, "A Cleveland Heights senior clicked on a fake e-mail that contained a virus. We quarantined the virus and got her computer up and running again within an hour."
Fix Your Computer Today (216-382-3880 or [email protected]), located in Cleveland Heights, offers quick computer repairs. Owner Buchi Onyekaba first determines if the problem can be fixed quickly over the phone. If not, clients bring their machines in and he fixes them within 24 hours. He can also make house calls when necessary.
"One senior client preferred not to bring his machine in," said Onyekaba, "So I fixed it at his home." Onyekaba can also help clients with proper usage. "Don't click your way into trouble," he advised. "If you are unsure, call me first."
The Computers Again program of Goodwill Industries offers help to those who want to buy a computer but have limited income.
The program refurbishes donated computers and offers them at discounted prices to qualified individuals. Qualification is based on monthly household income, and the number of people in the household. To find out if you qualify, call 330-445-1101.
Fretwell of Call Jimbo offered this advice to avoid a computer virus: "If you don't know the (e-mail) sender or are unsure if [the e-mail] is legitimate, don't click on any links in the e-mail, no matter how official it may look. Call the company directly."
She also advises that computer owners take note of the pop-ups that advise when it is time to update anti-virus software. She explained, "These updates are necessary to keep you from getting a virus".
Click here to read the full article in the Heights Observer.