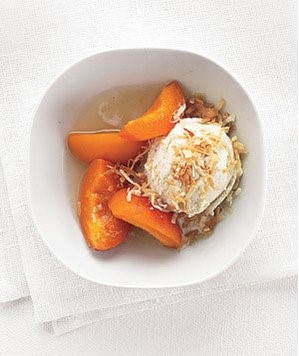 Serves 4 / Prep Time: 35 min / Source: Real Simple
*You can also use peaches or plumcots

Ingredients
1/2 c honey
1 small lemon
4 apricots or plumcots, or 2 peaches
1 pint vanilla ice cream
1/4 cup shredded coconut
Directions
Cut fruit into bite-sized pieces, leaving skin on. Discard pits, and place in a medium bowl.
Peel 2 strips of zest from lemon (avoid white pith).
In a small saucepan, bring 1 cup water, honey, and lemon zest to a boil. If fruit is not yet ripe (still firm) boil in honey mixture until soft. Otherwise, pour honey mixture over fruit. Refrigerate until cool (approximately 45 minutes. Discard lemon zest after cooling.
Meanwhile, toast coconut in an ungreased Teflon frying pan over medium-low heat, stirring constantly until browned.
Divide fruit and ice cream between 4 bowls. Sprinkle coconut on top and drizzle with remaining honey syrup.