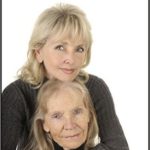 Harriet Tramer is no stranger to the stress that can come with caring for an aging family member. The Cleveland Heights resident has written a book about the experiences she went through while caring for her aging mother.
Tramer wrote Growing Up as She Grows Old to offer advice and helpful resources to others who are caring for aging family members. She hopes that reading about her experiences and the lessons she learned will help make the process easier for readers.
Citing statistics from The Family Caregiver Alliance (FCA), Tramer said she was prompted to write the book "because this issue is so pervasive." The FCA stated last year that approximately 34.2 million Americans had provided unpaid care to at least one adult age 50 or older in the preceding 12 months, and 82 percent of them provided care for two adults.
"A lot of families are dealing with this issue at a huge cost," Tramer said. According to the FCA, the economic value of services provided by informal caregivers in 2013 was estimated at $470 billion.
The stress and adverse health issues that caregiving can cause are well-documented. The Caregiver Action Network (CAN) cites studies that report 23 percent of those caring for loved ones for five years or more report their own health as fair or poor; 72 percent of caregivers do not go to the doctor as often as they should; 63 percent have poor eating habits; and 58 percent have declined or eliminated their exercise habits.
Tramer offered advice to help reduce caregiver stress. First, ask for help. "Don't try to do this alone," Tramer said. She recommended seeking care help through adult day care centers, respite care and home health aides. Her book contains precautions and checklists to follow when researching these options.
Tramer also suggested learning non-verbal ways of communicating with a loved one. People suffering from dementia, Alzheimer's disease, or stroke are not able to communicate as they once did. Art therapy and sound healing are methods for expression that do not use language. "These are ways they can still communicate," she said.
Finally, Tramer encouraged readers to reduce stress by maintaining their own physical and mental health. Her book suggests joining support groups, maintaining an exercise program and practicing mindfulness. "And be sure to get enough sleep," Tramer emphasized.
Local resources for caregiver assistance that Tramer endorses include the art therapy program at Ursuline College in Pepper Pike (440-449-4200), Peter B. Lewis Aquatic and Therapy Center exercise programs in Beachwood (216-595-7345), University Hospitals Medical House Calls program (216-844-5482), the Case Western Reserve University Mandel School of Geriatric Social Work (216-368-1655) and social workers at the Cleveland Heights Office on Aging (216-691-7342).
Growing Up as She Grows Old can be purchased through www.bibliopublishing.com and www.amazon.com. Tramer also hosts a radio show called "Aging Without Wrinkles" on the Artist First Radio Network (www.artistfirst.com). She writes a blog on aging issues at www.htramer.com and can be contacted at 216-321-8250.
Click here to read the full article in the Heights Observer.