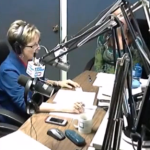 Judith Eugene will be presenting her talk "Tools For Every Day Stress Relief" on Tuesday, January 20 on WINT 1330 AM. She will offer many helpful methods for reducing stress and maintaining peace and balance amid the challenges of a busy life. The show airs from 4-5 pm and Judith will be appearing during the second half. Many thanks to show host Carol Ganser for the invitation!
Listen live by clicking here – www.welw.com (click the big red "ON AIR" button)
Shows are archived so if you miss it you can always watch the video later!