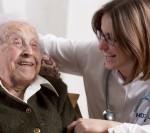 The idea of medical house calls conjures up images of bygone days when the local "healthcare system" was a doctor with a satchel who knew each patient by name and visited their homes when they were ill. The healthcare system as we know it today is very different. However, it's comforting to know that there are still certain cases when doctors and other medical professionals will call on patients when needed.
MD2U (216-502-3220) is a national medical house call company that serves those who are homebound, disabled, or have difficulty getting out of their homes. Natalie Barbastefano, a clinical nurse practitioner, opened the MD2U's Cleveland office last year. "I saw the need in my community and wanted to help the seniors and disabled people here." she said. "The goal is to help people live independently for as long as possible."
University Hospitals Case Western Reserve House Call Program (216-464-6210) offers a similar service, with the goal of providing comprehensive primary care to help clients avoid unnecessary emergency room visits and hospitalizations.
The MD2U and University Hospitals programs are designed for people who may already have a primary care doctor, but whose health or mobility makes it difficult to go to the doctor's office. These programs bridge the gap by bringing the care to them. They provide primary care for many acute and chronic conditions, and work with the patient's doctor to develop a care plan. The programs accept Medicare, Medicaid and most private insurance.
One patient helped by MD2U was a Cleveland Heights resident in his late 80s who had been hospitalized several times for seizures. He was too weak to go to his doctor for medical care, but didn't want to go back to the hospital. His doctor called MD2U and it took over his care, in coordination with his doctor. They were able to stabilize him and keep him at home.
Family EyeCare Clinic, serving several local counties, has a Mobile Eye Clinic (440-946-0009) that makes house calls for people who are homebound or have other difficulty getting out for eye care services. Its optometrists help with eyeglass prescriptions, evaluations for dry eye and surface disease, treatment of infections, and checkups for macular degeneration, glaucoma and diabetes. They accept insurance, however, there is an additional out-of-pocket charge for the house call.
Dr. Sally Schkolnik (216-291-6000), a podiatrist located at Severance Circle, also makes house calls for patients who are homebound and have difficulty getting to her office. She provides basic nail and callus care, diabetic foot care, and treatment of wounds, infections, fungus and bursitis. She can also arrange for home X-rays when needed. Schkolnik accepts insurance, and there is no additional charge for the house call. House call hours are limited, although emergencies are accommodated as quickly as possible.
Rainbow Veterinary Clinic (216-291-3931), located on Noble Road in Cleveland Heights, makes house calls for dogs and cats who need basic medical care, but whose guardians are unable to bring them to the clinic. Services include examinations, vaccinations and blood draws for blood tests. The veterinarians make house calls throughout Cleveland Heights and University Heights. Calls should be scheduled in advance (they are not able to accommodate emergencies), and there is an additional charge for the house call.
Click here to read the full article in the Heights Observer.