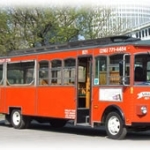 The cooler temperatures of fall make this a great time of year to get outdoors and do some exploring. Bus tours are a wonderful way to see new places without the concern of driving or parking. You can even go with a group of friends for a fun outing together.
The SELREC (South Euclid-Lyndhurst Recreation) Program offers two interesting fall tours for active older adults: an Act Like a Kid Again tour on Oct. 24, which includes stops at an ice cream factory, candy store, fruit farm and a glass-blowing factory; and a trip to the Hartville Flea Market on Nov. 14. Trips depart from the Hillcrest and Warrensville YMCAs. For more information, call 216-382-4300.
The City of Beachwood has two local tours planned for seniors—a trip to Severance Hall on Oct. 31, and one to the Palace Theatre on Nov. 12, for a presentation of "Newsies." Call 216-595-3733 for information. Trips depart from the Beachwood Community Center.
Mayfield Village Senior Services offers a Progressive Wine Tour with Fall Foliage on Oct. 22. Call 440-919-2332 for information.
The Community Partnership on Aging, located in South Euclid, offers a Dec. 13 trip to a Christmas concert at Severance Hall. Earlier trips in October and November are in the planning stages, but are not yet scheduled. Call 440-473-5138 for information.
Lolly the Trolley offers daily sightseeing tours of Cleveland on charming red buses designed to look like streetcars. The tours are narrated, and provide interesting facts about the city. Most tours are one- or two-and-a-half hours long and depart from the Nautica Powerhouse in the Flats. The one-and-a-half hour Holiday Lights tour in December includes a stop at the house that was featured in the movie "A Christmas Story." For more information, call 216-771-4484 or visit www.lollytrolley.com.
Lakefront Lines operates one-day casino tours to Horseshoe Casino in downtown Cleveland. The closest departure location is the WalMart located at 6594 Mayfield Road in Mayfield Heights.
The company also offers day trips to casinos and racetracks in Pennsylvania, Michigan, West Virginia, New York and Canada. The closest departure location for those destinations is the Lakefront Lines Garage at 13315 Brookpark Road. Multi-day trips are also available. Call 216-267-8810 for more information.
Please note that you do not need to be a resident of the above-mentioned cities to go on these trips. Registration deadlines can be as much as two months in advance of the trip date, so call early to reserve a spot.
The Cleveland Heights Senior Activity Center also offers bus trips during the year, although none are scheduled at this time. You can check back at a later date by calling 216-691-7377.
Click here to read the full article in the Heights Observer.