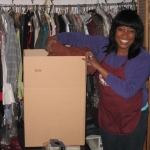 When senior adults make the decision to move to a smaller home, move in with their children, or relocate to assisted living, the tasks involved can be overwhelming and time-consuming. Seniors are often physically unable to take care of moving on their own, and their children are often busy with work or live far away. Senior relocation services can help take much of the burden off of their shoulders.
One Cleveland Heights senior was having trouble climbing stairs in her two-story house, and was afraid of falling when walking to her garage in the winter. She worked with North Coast Residential Relocation (NCRR) to sell her house and move into an apartment building. They helped her determine a reasonable price for her home, and rearranged her furniture to make it more appealing to buyers.
NCRR helped a family in University Heights clean out unwanted possessions by working with an auctioneer who purchased the valuable pieces, donating the remaining items to charity, and arranging for the home to be cleaned, organized and sold. NCRR President Lee-Ann Spacek acts as an advocate throughout the relocation process, protecting the best interests of the senior and the family until he or she is safely moved into a new home and the old home is sold.
Caring Transitions, another local company, helped an out-of-state man relocate his elderly aunt from a Cleveland Heights rehabilitation center to assisted living. Caring Transitions staff drew a floor plan of the new home to determine what furniture would fit. They packed, moved and unpacked the possessions that the aunt was able to take, and held an estate sale for the rest.
Gayle Chillious, president of Caring Transitions, works with seniors and families to develop a relocation plan to fit their needs and timelines. Her team documents the process with photos and keeps families informed along the way. They unpack and arrange everything to recreate the feeling of the old house as closely as possible, so that the senior feels at home.
It is important to hire a competent and reputable relocation company. Interview each potential company and ask for and check its references. Reputable companies will also pre-screen cleaning, home repair, decorating, moving and real estate companies.
North Coast Residential Relocation can be reached at 440-248-5281. Caring Transitions can be reached at 216-339-3787.
Click here to read the full article in the Heights Observer.