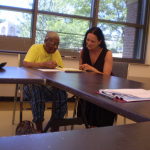 Elizabeth Rhines has an amazing memory.
Born in 1915, she can still remember in vivid detail the Cleveland neighborhood where she grew up. Rhines has been traveling down memory lane quite a bit lately, writing her memoir for a class at the Cleveland Heights Senior Center. Her childhood memories provide a very interesting snapshot of life in Cleveland in the early part of the 20th century.
Rhines, now 96 years old, was born in a house near the Farmers Market. At that time the market was at East 120th Street and Superior Avenue.
She remembers waking every morning to the sound of roosters crowing, and the clattering of horse-drawn wagons bringing food to the market. Because there were very few automobiles in those days, the produce was all locally grown and in season. Mothers would bring the food home from the market in their childrens' wooden wagons.
"Children were never given the chance to be bored back then," Rhines said. "We were always given chores to do."
Girls helped their mothers clean the house, beat the rugs and wash the windows. Boys were required to sell newspapers. Back then Cleveland had three different newspapers, and they were published several times per day.
"There were paper boys at almost every intersection," she remembers. "And sometimes on all four corners."
Rhines recalls winter in Cleveland as being a fun time for children. The city did not have snow plows, so many streets would remain snow-covered all winter. The area of East 120thStreet between Superior and Beulah Avenues was a winter playground, where children would take their sleds and toboggans, she said. After the snow finally melted in the spring, the city would fix the potholes with hot tar carried in horse-drawn wagons.
Going to the park was a common pastime for Cleveland families in the early 20th century. Gordon Park, which still exists today, was a popular place to go. With a beautiful lake view, ballfields and picnic areas, the park provided an entire day's worth of entertainment.
The Rhines family, like most families at the time, did not own an automobile.  They took the East 79th Street streetcar to the end of the line to get to the park.
Luna Park, at East 110th Street and Woodland Avenue, was also a popular destination for Cleveland families of the time.  The amusement park sat on top of a large hill. The area was all countryside and farmland back then, so Rhines remembers it being a big excursion to get to the park. There were many different kinds of rides, a large monkey exhibit and a dance hall where national Jitterbug and Charleston contests were held.
Rhines, who has lived in Cleveland all of her life, has been a resident of Cleveland Heights for the past 12 years.  Like most of the other students in her class at the Senior Center, writing a memoir is something she has been thinking about doing for years.
But, like most, she didn't think her life was interesting enough to write about.
"I'm very excited to learn that it's really worthwhile to write this down, and that people are really interested to hear it," Rhines said.
She couldn't be more correct.
Click here to read the full article in the Heights Observer.