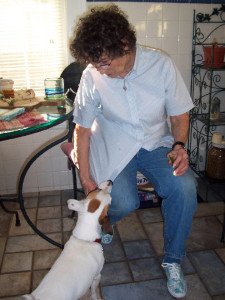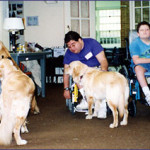 The benefits of sharing our lives with animals are endless.  They provide steadfast and dependable companionship.  They provide us with opportunities to stay in the present moment – listening to a cat purr or feeling a dog lick our hand makes it easy to forget our troubles.  The fact that they depend on us for their health and happiness helps us feel loved and needed.  And the health benefits of animal relationships are many: decreased blood pressure, better resistance to stress, less asthma and allergies, increased exercise and outdoor activities, more opportunities for socialization, andless likelihood of depression and loneliness.  But most of all they provide a beautiful example of unconditional love and accept us for who we are, without judgment. 

New!!!

All About Therapy Dogs – A certified therapy dog and his/her guardian will visit your group for an hour of tail-wagging love and education. Learn what is involved in therapy dog training, what kind of dog can be a therapy dog, and what rules the dogs need to follow while they are working. There will be plenty of dog petting also!
Doggy Days – We bring a therapy dog in to visit with you, to share their own special happiness and unconditional love!  You are more than welcome to pet the doggy while they visit.  The dogs are trained and certified therapy dogs.
Pony Visits – We bring a pony or a miniature horse inside your home to share some fun and love with you. The animals are trained not to "go" while inside, and their hooves are wrapped, so that your floor stays clean.  A fun and unusual activity!
Exotic Animal Education – We partner with area zoos and wildlife sanctuaries to bring exotic animals, reptiles, and birds to your home.  We provide information and education about the animals and their habitats, and you are able to see interesting and unusual animals up close.
---
View other Classes
Visit our Services for Caregivers page