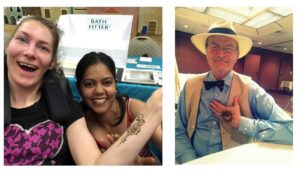 Henna is a natural herbal plant that has been used in many countries, including India, for centuries as a form of wearable art. A paste is made from the dried henna leaves and essential oils, and is applied to the skin in decorative designs. The paste temporarily colors the skin underneath, creating artwork that naturally fades away in about 2 weeks. It is painless, all natural, and non-toxic. It is not a tattoo.
Students choose a design from a book, that our artist then draws on their hand or arm. For those who do not wish to have the henna put on their bodies, the artist will bring henna designs printed on paper that they can color and keep. The artist will also teach about the history of henna, how the henna paste is made, and the benefits.
Those wishing to do so can also practice drawing with henna themselves. The artist will guide them step-by-step on using the henna cone, so they can get creative and come up with their own henna design.
Please note: For the best color development, the paste should be left undisturbed on the skin for at least 6 hours. After the paste comes off, the color darkens to a rich reddish brown color in about 2 days, and lasts for about 2 weeks. The color naturally fades away. Water, chlorine, and exfoliating the skin quicken the process of fading.
(1 hour class plus $2 per person for materials)
---
Click on the categories below for a full program list