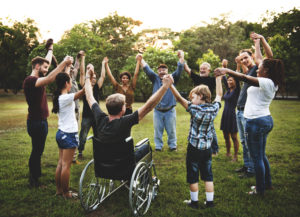 We have created partnerships with several groups and organizations in the Cleveland area who welcome disabled adults to come to their location to participate in our classes and activities with their participants. The programs are modified for varying levels of vision, dexterity, cognition and mobility challenges.
The programs help support the intent of the Cuyahoga County Integrated Community Services Program by providing community connection services for disabled individuals, based on the interests of the individuals.
Community integration programs actively foster engagement between disabled individuals and the general population. They help to
Break down barriers by providing access to a rich community experience
Break down stereotypes by fostering individual interaction with community members
Provide an enriching and mutually-beneficial experience for both groups
"I am so glad I came here today! I learned so
much from you. You really know a lot and
I'm so glad you taught me all this."
– Disabled woman after participating in one
of our discussion groups with senior
adults at an Assisted Living residence
We are also happy to facilitate reverse-integration programs for you, bringing members of the community to your location to participate in our programs with your individuals.
Please contact us for current locations and pricing, and to register.