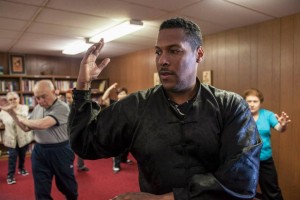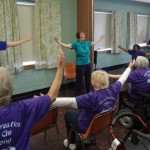 Tai Chi is a practical, slow-flowing exercise for restoring flexibility and joint function, improving balance, and lifting energy and outlook. Tai Chi also reduces depression, arthritis pain, chronic pain, stiffness, and fibromyalgia. It enhances breathing, lowers blood pressure, slows bone loss, and boosts immunity to the shingles virus. The gentle movements of this ancient Chinese tradition are done either seated or standing, and participants are encouraged to sit down whenever they may need to. Anyone can participate, even if they have never done Tai Chi before, and even if they are using a walker or wheelchair. We ask that your organization provide the chairs for the class.
Group Tai Chi Classes – A one-hour class that is customized to work at everyone's different levels of ambulatory ability. We provide instructions for the movements for those who are able to stand as well as those who need to remain seated.
Individual Tai Chi Classes – For those who are unable to participate in a group class, we can provide individual classes in their rooms. The classes are adapted to even the most challenging physical conditions.
---
View other Classes
Click on the categories below for a full program list